El Capitán Seafood Market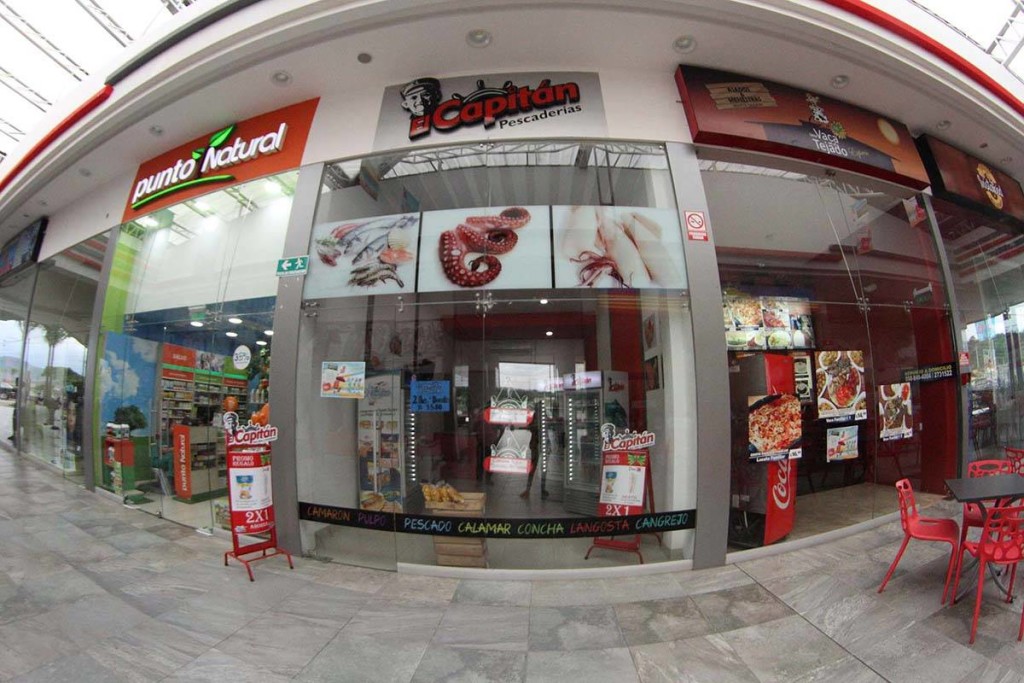 Tasting a fish is like tasting the sea. People of Guayaquil have a direct relationship with seafood, as we live in a port city, bathed by estuaries and rivers. Mussels, shrimp, fish and other delicacies are abundant here and can be traditionally purchased in the municipal markets of the city. But today, the first market specialized in seafood is found in Plaza Tia: El Captain Seafood Market.
Manuel Felix, owner of this seafood market, never imagined he would devote his life to sell seafood. It all started six years ago, when his uncle -the manager of a seafood distributor company- encouraged him to sell the products of the company,- and he dared.
He started by selling and delivering fish and shrimp to his acquaintances. his popularity gradually grew thanks to recommendations. His clients no longer had to get up early to go to the city market to buy the catch of the day, but they would rather call Manuel to take have it at the door of their houses. The popularity was such he did not have to look for customers; the customers looked for him. So, after six years, he finally decided to open El Capitan Seafood Market.
As a good native of Manabi, Manuel knows the culinary secrets for the emblematic dishes of Ecuador. He himself serves his clients and recommends them the multiple ways to cook a good ceviche.
His seafood market offers different presentations of fish: boning, cut into cubes, ready to throw it into the ceviche. Crude fish, as it should be.
Prices at El Capitan seafood market located in Plaza Tia are slightly higher than those found in the marketplace, but Manuel assures his customers that he offers them a quality product. Manuel assures his customers that he offers them a quality product. He maintains a strict chain of cold, each seafood package is vacuum sealed and has health registration.
El Capitan offers seafood that are not usually found in the market. One of Manuel´s aims is precisely that people start eating different types of fish than usual. Wahoo is a mild fish, of white meat and that tastes delicious if breaded. Hake is highly requested in Spain, but it can also be found here in South America.
El Capitan offers variety, for example baby squid, a tiny type, and pota squid, the giant version of the baby squid. And if you know how to prepare sushi, here you can find red tuna, perfect for sashimi cuts.
This is an innovative business since there are no seafood markets in the city. Manuel loves to do frequent tastings to let his clients know what good seafood tastes like.
For more information, you can contact the following telephone numbers:
For more information, please contact the following telephone numbers: +593 98 583 7374 or +593 98 466 3403